SSG5030 Shrink Machine
Commonly used in baskets, wooden products, small chairs, basketball, crafts, toys, auto parts, sports goods, office supplies, industrial parts, plastic products and other products of POF film, PVC shrink film packaging.
Working principle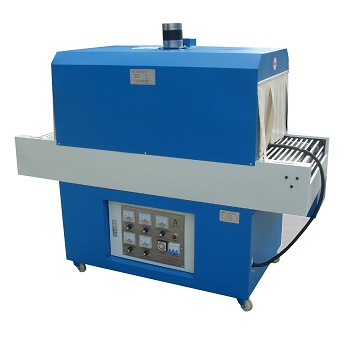 The shrink packaging machine works is relatively simple, the furnace chamber through quartz heating tubes produce heat, the fan inside the furnace chamber is filled with the lower temperature uniformity of hot air from the furnace intelligent temperature control instrument control indoor temperature and keep a constant temperature , According to product shrinkage effect can be independently adjusted above and below the two heat pipe heat intensity, so that product contraction effect to perfection. Products through the chain-type conveyor belt into the furnace chamber, under high temperature shrink film shrink and close to the surface of the article.
Feature
Surface roasts the paint processing the machine enclosure, elegant appearance, corrosion resistance.

Using quartz tube heating, heating up fast.

Strong shutter centrifugal wind wheel makes the hot air from bottom to top to radiate heat cycle, more uniform.

Optimized circuit design, temperature control, temperature reaches set temperature after stop heating, managing electric energy.

Shrinkage furnace above and below the two set of heat pipes can be adjusted independently calorific intensity, perfect balance contraction effect.

High power dc motor, stepless speed regulation, and can work continuously for a long time, and the operation is stable and reliable.

Furnace chamber adopts hatchback mechanical structure design, make the maintenance easy and convenient.

Stainless mesh conveyor belt, suitable for small heat shrinkable packaging products.

On POF film, PVC film, heat shrinkable labels are perfect shrinkable packaging.
Technical parameters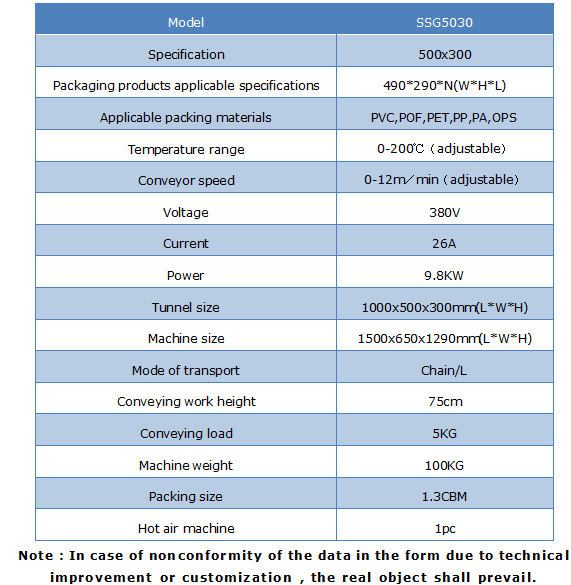 Products related to this product / Related Products
JF-A vacuum emulsifier is professionally designed according to the ointment manufacturing process of cosmetics and ointments etc. Products through introducing advanced technology from abroad. The machine unit is composed of pretreating boiler, vacuum emulsifying and blending boiler , vacuum pump. Hydraulic system, dumping system , electric control system and work platform etc.
Small vacuum homogeneous emulsifying machine is suitable for various type of ointment, honey products, small, pilot or a board, it is the cosmetics, pharmaceutical production enterprises laboratory indispensable experimental tool. Equipment has complete function, reliable quality.
Vacuum homogeneous emulsifying machine is a set of mixing, dispersion, emulsification and homogenization, powder absorbing functions in one integrated system, a control system, but also with the peripheral oil, water tanks, the use of vacuum, heating / cooling system. Is a special equipment for producing medicinal ointment, cream, lotion and other high-grade.