PX2020 Steam Shrink Packaging Machine
Exclusive use of steam and constant temperature diffusion characteristics of the uniform to work in order to achieve the common electric infrared heat shrinkage machine incomparable effect. Device uses a steam generator to generate steam, with no additional steam boiler. There are primary and secondary hosts two heaters can be adjusted depending on the size of the power equipment production speed, the conveyor belt with variable speed, transmission speed can be adjusted. Widely used in vat or a small bottle of mineral water, purified water; soft drinks and tea drinks and other food and beverage industry, as well as cosmetics, shampoos and hardware and electronics need to shrink film packaging occasions.
Feature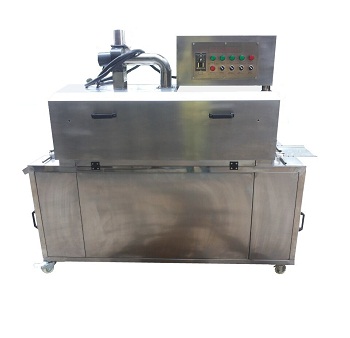 Take the lead in using the latest technology : steam heat.

High efficiency heat shrinkage, different and irregular round bottles, square bottles, flat bottles, bottle-shaped, simple adjustment.

Optimized circuit design, instrumentation temperature control, the temperature reaches the set temperature to stop heating, saving energy.

Machine three layers of insulation, reduce heat loss, USES the waterproof design, 304 stainless steel manufacturing.

Conveniently equipped with a thermometer and a pressure gauge, steam pressure and temperature shrinkage, easy to start operation.

Steam inlet valve is equipped with a dial, saving time start when operation.

Each machine on both sides of the nozzle can be adjusted up and down / inside and outside the location and direction of the jet.

The whole front end is equipped with the import and export shield device, reduce the steam leakage, improve the heat preservation effect.

High power dc motor, stepless speed regulation, and can work continuously for a long time, and the operation is stable and reliable.

The entire lower body to install water tray for collecting condensate discharge concentrated,?put an end to the wet problem.

All the electrical components made of high quality, famous brand, so the quality has been effectively guarantee.

On PE film, PVC film, heat shrinkable labels are perfect shrinkable packaging.
Technical parameters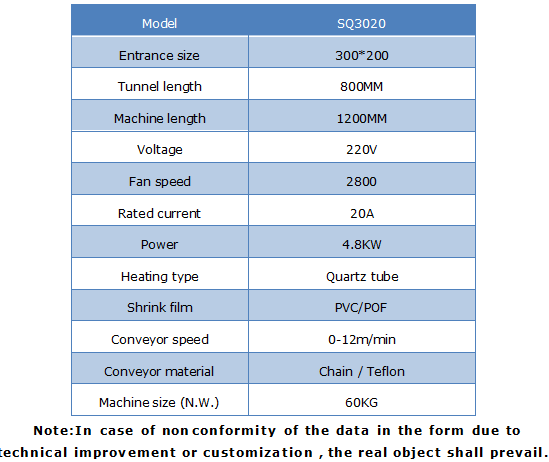 Products related to this product / Related Products
JF-A vacuum emulsifier is professionally designed according to the ointment manufacturing process of cosmetics and ointments etc. Products through introducing advanced technology from abroad. The machine unit is composed of pretreating boiler, vacuum emulsifying and blending boiler , vacuum pump. Hydraulic system, dumping system , electric control system and work platform etc.
Small vacuum homogeneous emulsifying machine is suitable for various type of ointment, honey products, small, pilot or a board, it is the cosmetics, pharmaceutical production enterprises laboratory indispensable experimental tool. Equipment has complete function, reliable quality.
Vacuum homogeneous emulsifying machine is a set of mixing, dispersion, emulsification and homogenization, powder absorbing functions in one integrated system, a control system, but also with the peripheral oil, water tanks, the use of vacuum, heating / cooling system. Is a special equipment for producing medicinal ointment, cream, lotion and other high-grade.