GLF Series Semi-automatic Liquid Filling Machine
Filling the vast types of liquids, including high viscosity liquid. Such as: various pharmaceutical, chemicals, oils, cosmetics, food and other non-granular liquid.
Overview
1. Using the world's brand inverter, equipped with imported high precision multi turn potentiometer and the dial plate, so that the flow is stable and accurate, error of plus or minus deviation is less than 1%.

2. The original Japanese imports of stainless steel gear pump, reliable quality and long life.

3. Stainless steel chassis, durable.

4. Small volume, convenient operation.

5. Convenient cleaning virus.

6. Full function, automatic manual can be. Can be equipped with the assembly line work.

7. The commonly used types are: single pump, double pump and the four pump machine.

8. Filling capacity from 3ml to 5000ML adjustable, convenient regulation.

Technical parameters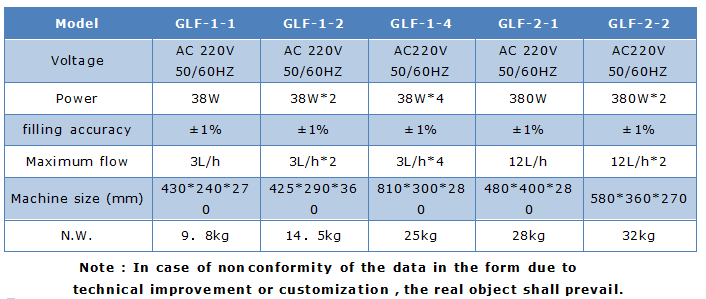 Products related to this product / Related Products
JF-A vacuum emulsifier is professionally designed according to the ointment manufacturing process of cosmetics and ointments etc. Products through introducing advanced technology from abroad. The machine unit is composed of pretreating boiler, vacuum emulsifying and blending boiler , vacuum pump. Hydraulic system, dumping system , electric control system and work platform etc.
Small vacuum homogeneous emulsifying machine is suitable for various type of ointment, honey products, small, pilot or a board, it is the cosmetics, pharmaceutical production enterprises laboratory indispensable experimental tool. Equipment has complete function, reliable quality.
Vacuum homogeneous emulsifying machine is a set of mixing, dispersion, emulsification and homogenization, powder absorbing functions in one integrated system, a control system, but also with the peripheral oil, water tanks, the use of vacuum, heating / cooling system. Is a special equipment for producing medicinal ointment, cream, lotion and other high-grade.