DS-3 Type Vibration Spiral Feeding Machine
The product is mainly used as a granular powder feeding, suitable for food, chemical industry, building materials, plastics and packaging industry has a certain height requirements of the feeding device.
Principle Features
This machine mainly with DF-A powder filling machine supporting use, reduce dust, reduce labor intensity, improve labor efficiency; by materials can be divided into two kinds of stainless steel and carbon steel, material outlet can be custom-made into a round or square discharge port.


1. DS-3 vibrating screw feeder can lift a variety of powder material, a material box and the packing auger are made of stainless steel.
2. Feeding motor, each switch to control the vibration amplitude adjustable vibration motor, The whole spiral can be convenient disassembly, cleaning.
3. Automatic feeding, automatic stop.
4. Between the screw and barrel and bin soft connection, easy disassembly; barrel at the lower end of the valve and the reversing switch, convenient cleaning.
5. Feeding height according to user requirements and work space decision, this machine can move freely, feeding feeding fast, safe and reliable.
6. Silo with the vibration motor, make material automatically into the spiral.
Technical parameters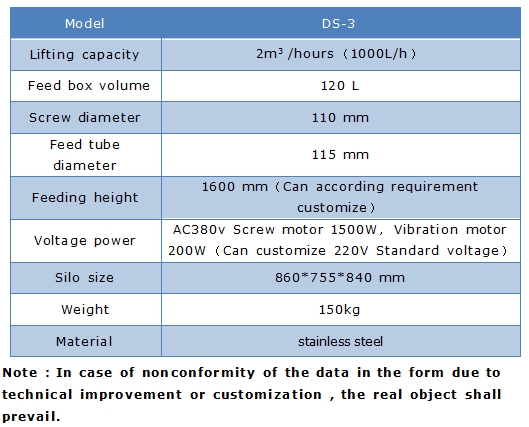 Products related to this product / Related Products
JF-A vacuum emulsifier is professionally designed according to the ointment manufacturing process of cosmetics and ointments etc. Products through introducing advanced technology from abroad. The machine unit is composed of pretreating boiler, vacuum emulsifying and blending boiler , vacuum pump. Hydraulic system, dumping system , electric control system and work platform etc.
Small vacuum homogeneous emulsifying machine is suitable for various type of ointment, honey products, small, pilot or a board, it is the cosmetics, pharmaceutical production enterprises laboratory indispensable experimental tool. Equipment has complete function, reliable quality.
Vacuum homogeneous emulsifying machine is a set of mixing, dispersion, emulsification and homogenization, powder absorbing functions in one integrated system, a control system, but also with the peripheral oil, water tanks, the use of vacuum, heating / cooling system. Is a special equipment for producing medicinal ointment, cream, lotion and other high-grade.