JF-2T Double head mask filling and sealing machine (Automatic)
Advantage
Both Chinese and English interface--------Easy to operate
Multiple machines for one person ----- Save manpower
Production line is stable ----- Production improve
Good product quality ----- Customer satisfaction

Advantage
Both Chinese and English interface--------Easy to operate

Multiple machines for one person ----- Save manpower

Production line is stable ----- Production improve

Good product quality ----- Customer satisfaction

Feature
1, the packaging process is automatic, without manual operation;
2, the material contact parts are made of high quality stainless steel, in line with GMP standards;
3, according to the nature of filling materials matching different filling device;
4, intelligent detection, bag filling and sealing, no bag, no filling. No bag, no seal;
5, equipment, important accessories are used internationally renowned brands.
6, the whole machine control using 7-inch color Chinese touch screen, equipment operating parameters set convenient and intuitive, with both production statistics and equipment failure automatic diagnostic function, so that production management, equipment management more efficient;
7, intelligent digital temperature control system, the sealing temperature automatically replenishment, temperature control accuracy. Seal rate is low.
8, the whole pneumatic original are selected well-known brands, long working life, easy maintenance and replacement.
9. Can be customized according to customer needs different filling methods.

Equipment work flow
Automatic under the bag - automatic filling filling - automatic sealing - automatic code (optional) - finished product output
Machine configuration
1. The whole machine adopts photoelectric tracking and positioning system, automatic completion of the next bag, open the bag, filling, sealing, output and other processes;
2. Electrical automation parts are used at home and abroad well-known brands, Japan Omron quantitative encoder, DDK transmission motor, Taiwan Delta PLC programming controller touch screen frequency control controller and other industrial control;
3. With the material contact parts are used 316L stainless steel, in line with GMP standards;
4. Filling volume, production capacity and various functions can be displayed on the touch screen and set.
Technical parameter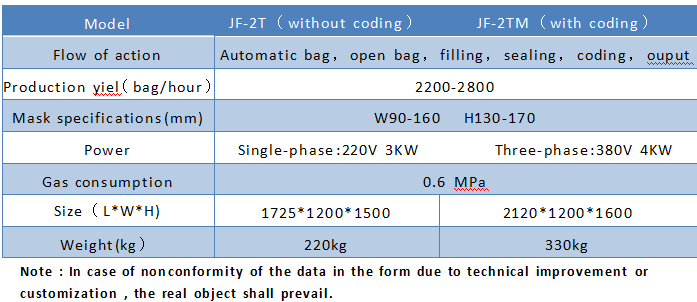 Products related to this product / Related Products
JF-A vacuum emulsifier is professionally designed according to the ointment manufacturing process of cosmetics and ointments etc. Products through introducing advanced technology from abroad. The machine unit is composed of pretreating boiler, vacuum emulsifying and blending boiler , vacuum pump. Hydraulic system, dumping system , electric control system and work platform etc.
Small vacuum homogeneous emulsifying machine is suitable for various type of ointment, honey products, small, pilot or a board, it is the cosmetics, pharmaceutical production enterprises laboratory indispensable experimental tool. Equipment has complete function, reliable quality.
Vacuum homogeneous emulsifying machine is a set of mixing, dispersion, emulsification and homogenization, powder absorbing functions in one integrated system, a control system, but also with the peripheral oil, water tanks, the use of vacuum, heating / cooling system. Is a special equipment for producing medicinal ointment, cream, lotion and other high-grade.