JF-W Air Washing Machine
Scope of application
This machine is widely applicable to various types of glass bottles, plastic bottles cleaned before filling.
Scope of application
This machine is widely applicable to various types of glass bottles, plastic bottles cleaned before filling.
Feature
1. Low energy consumption, clean pollution-free; easy operation, low failure rate; low prices.
2. The machine uses 304 stainless steel. Electrical parts adopt international brand OMRON and Schneider.
3. The use of double precision filter, electrostatic ion generator to ensure that no residual dust bottle.
4. Automatic storage dust particles to ensure clean air and room class operator health.
5. Applicable to pipeline operations, working with a variety of line matching and high efficiency. Than conventional washing, drying more efficient, saving and environmental protection.
6. The machine can be used in beverage plants, food plants, chemical plants, cosmetics factory, pharmaceutical production and other enterprises.
7.Caster design, convenient to move. Horizontal adjustment wheel suitable for different environment.

Working principle
Connecting the compressor, the switch to open the gas and gas pressure regulator to 4-6KG / CM². Adjust the height of the bottle holder according to the height of the bottle. You will need to clean the bottle upside down in the wash bottle holder, press down in the end. This time, the washing nozzle clean air rises and opens the solenoid valve to the bottle blowing clean air radio, direct the set time and then stop, and finally picked up the artificial clean bottle.

Technical parameter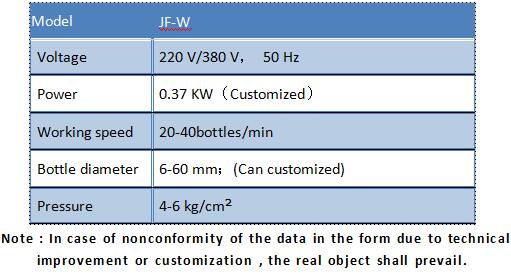 Products related to this product / Related Products
JF-A vacuum emulsifier is professionally designed according to the ointment manufacturing process of cosmetics and ointments etc. Products through introducing advanced technology from abroad. The machine unit is composed of pretreating boiler, vacuum emulsifying and blending boiler , vacuum pump. Hydraulic system, dumping system , electric control system and work platform etc.
Small vacuum homogeneous emulsifying machine is suitable for various type of ointment, honey products, small, pilot or a board, it is the cosmetics, pharmaceutical production enterprises laboratory indispensable experimental tool. Equipment has complete function, reliable quality.
Vacuum homogeneous emulsifying machine is a set of mixing, dispersion, emulsification and homogenization, powder absorbing functions in one integrated system, a control system, but also with the peripheral oil, water tanks, the use of vacuum, heating / cooling system. Is a special equipment for producing medicinal ointment, cream, lotion and other high-grade.