JF-O Ozone Happening Fast Machine
This product, appearance beautiful, advanced design concepts, the use of more security, more convenient, is the modern family, the factory necessary sterilization, good with.
Introduction
This product, appearance beautiful, advanced design concepts, the use of more security, more convenient, is the modern family, the factory necessary sterilization, good with.

This product can on kitchen appliances (range hood, gas stove, microwave oven liner, etc.) and toilet fittings and so on items and equipment sterilization, and no chemical detergent, and at the same time, the role of disinfection and sterilization. Security clearance, microbial pathogens such as bacteria, mites, remove dust, prevent allergy, make your home, plant life in Ankang, the environment more beautiful, but you also contributed to environmental protection.

Function and Use
1. Sterilization: food factory, pharmaceutical factory of raw materials such as the surface of the object over-current immersion sterilization, forming aseptic raw material surface (on the packaging container can be high concentration ozone contact finish sterilization). Such as fruit after cleaning can achieve sterile and can be made into juice concentrate
In the processing of aquatic products -- frozen prior to packaging, through the high concentration ozone water spray sterilization or over-current immersion sterilization, the health indicators of aquatic products to achieve perfect control, avoiding the use of chloride to bring the chlorine exceed the standard problem. * in liquid food processing (such as soft drinks, juices) production process and pharmaceutical factory
High concentration ozone water can be used for the pipeline, production equipment and container of soaking and washing, so as to achieve efficient sterilization. Pipeline, equipment and containers on the surface of bacteria and viruses shower and kill, very simple and convenient. That is not dead, but also to avoid the harmful substances caused by other chemical disinfectants emissions and residues
Ozone has no residue and pollution two. * can be widely used in hotels, hotel, canteen, for tableware, fruits and vegetables sterilization and disinfection; children's toys, object surface.

2. The degradation of pesticides: can be widely used in public eating canteen, fruit and vegetable processing factory, food processing factory, used to remove pesticides, fertilizers, food additives and other harmful substances.
3. Water treatment, sterilization and algae: can be widely used in industrial water, aquaculture water sterilization, deodorization in sewage treatment process, bleaching, sterilization
4. Food preservation: raw materials and finished products are widely used in refrigeration factory, food processing plants, livestock slaughter plants per unit of production process of storage, preservation, disinfection process
5. Cleansing: can be widely applied to ozone washing is the hotel, sauna, hospitals, pharmaceutical, food and other industries.

Scope of application
1. Water treatment;

2. Air treatment;

3. Household treatment: in addition to smell, bleaching, bleaching: smell elimination of cabinets, refrigerators and litter decomposition of toluene, ethanol, sulfur dioxide, carbon monoxide, carbon dioxide and other toxic gases; can use ozone generator ozone water treatment.

Technical parameter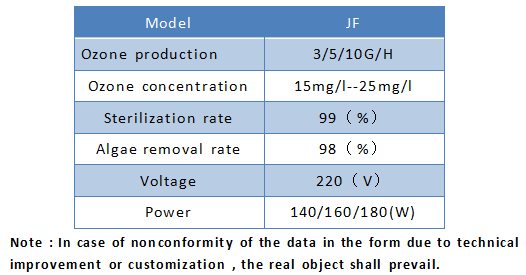 Products related to this product / Related Products
JF-A vacuum emulsifier is professionally designed according to the ointment manufacturing process of cosmetics and ointments etc. Products through introducing advanced technology from abroad. The machine unit is composed of pretreating boiler, vacuum emulsifying and blending boiler , vacuum pump. Hydraulic system, dumping system , electric control system and work platform etc.
Small vacuum homogeneous emulsifying machine is suitable for various type of ointment, honey products, small, pilot or a board, it is the cosmetics, pharmaceutical production enterprises laboratory indispensable experimental tool. Equipment has complete function, reliable quality.
Vacuum homogeneous emulsifying machine is a set of mixing, dispersion, emulsification and homogenization, powder absorbing functions in one integrated system, a control system, but also with the peripheral oil, water tanks, the use of vacuum, heating / cooling system. Is a special equipment for producing medicinal ointment, cream, lotion and other high-grade.